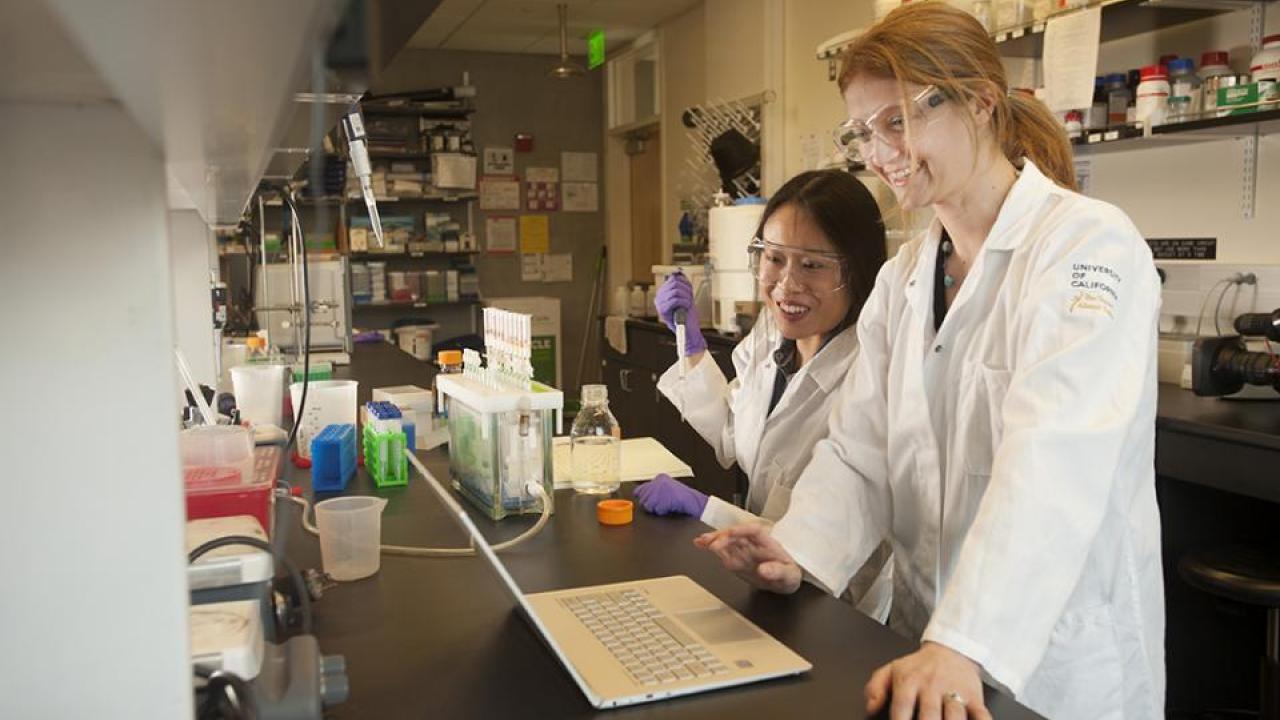 Professor Daniela Barile, right, works with food science major Tian Tian to better understand the chemical and biological properties of bovine milk. (Gregory Urquiaga/UC Davis)
A new portal has opened to connect faculty, staff, students and the greater community to UC Davis STEM programs.
Developed by the STEM Strategies group in the Office of the Provost, the portal is designed to help students discover opportunities to engage in STEM (science, technology, engineering and math) at UC Davis.
The STEM Strategies group spearheaded the project using feedback from faculty and students as well as research on existing STEM databases. The group then produced a mock-up of the portal and used it to survey over 200 people in the UC Davis community.
"The goal was to create an easy-to-use, intuitive database," said Michael Mikhov, a graduate researcher at STEM Strategies. "This required us to employ an iterative process in order to receive constant feedback from users."
The website is organized similarly to a directory and has implemented more creative features for its advanced search options. Students and staff can search general topics or find specific resources relating to their subject. Additional resources include volunteer experiences, internships and current research opportunities.
Lori Bergum, academic advisor for UC Davis biochemistry and molecular biology, said the portal will be a vital tool for students.
"Students have so many resources, opportunities and information directed toward them it can be overwhelming to filter through it all," Bergum said. "Having a hub such as this portal helps advisors and other stakeholders offer a direct path toward the STEM community on campus."
Additionally, the website may aid in connecting different STEM groups to inspire collaboration. It also could be helpful in identifying gaps that still exist in STEM programs offered at UC Davis. The target audience is UC Davis students, but it offers helpful resources for prospective and junior college students, as well as the community and K-12 schools.
STEM Strategies expects the portal to grow with more resources being incorporated every day.
The publishing process is user-friendly and efficient to encourage more STEM programs to be entered into the database. The group plans to hold campaigns to promote additional submissions, and anyone with a STEM opportunity is encouraged to submit it.
Though the portal has already developed since its debut this fall, STEM Strategies is preparing more features. The next scheduled addition will likely be a list of professors who could provide research opportunities for students.
For more info, please click the following link:
https://www.ucdavis.edu/news/new-portal-unites-campus-stem-network/