Expertise
The Barile lab is recognized as a leading expert of milk and dairy byproducts, including whey permeate. Almost 80% of our 125+ peer reviewed journal articles focus on the bioactive components in milk, colostrum, and other dairy products and byproducts. We have a tremendous amount of experience with the dairy industry as well as with novel and traditional dairy processing techniques applied in research and industry. As leading dairy researchers, we have received numerous awards and grants, been featured in a recent documentary, spoken at domestic and international conferences and webinars, and had our writings cited over 3,000 times. We choose to work with commercial partners to help disseminate our knowledge in an effort to increase our positive impact on the food and dairy industries.
Facility
Housed in the Department of Food Science across a courtyard from Dr. Barile's analytical laboratory, our state-of-the-art 800 square foot Milk Processing Laboratory was designed and built to enable collaborative and multi-disciplinary food science research to bring exciting innovations to the food industry, particularly in the realm of novel methods for the fractionation and recovery of bioactive milk components. The Milk Processing Lab provides an excellent resource for scholarly research as well as collaborations with both dairy and non-dairy industry partners. In addition, the Milk Processing Lab complies with all specifications required to produce materials for sensory evaluations and animal trials with approved Institutional Review Board protocols.
Our facility features 110/208/480 V (single & three-phase) power supplied by eight utility stations, steam, chilled and RD water, an isolated drainage system, and HEPA filtration to ensure air quality. Additionally, the Milk Processing Lab complies with all specifications required to produce materials for clinical trials. Outside the Milk Processing Lab, we also boast over 300 square feet of ambient equipment storage to pretreat larger volumes of raw materials.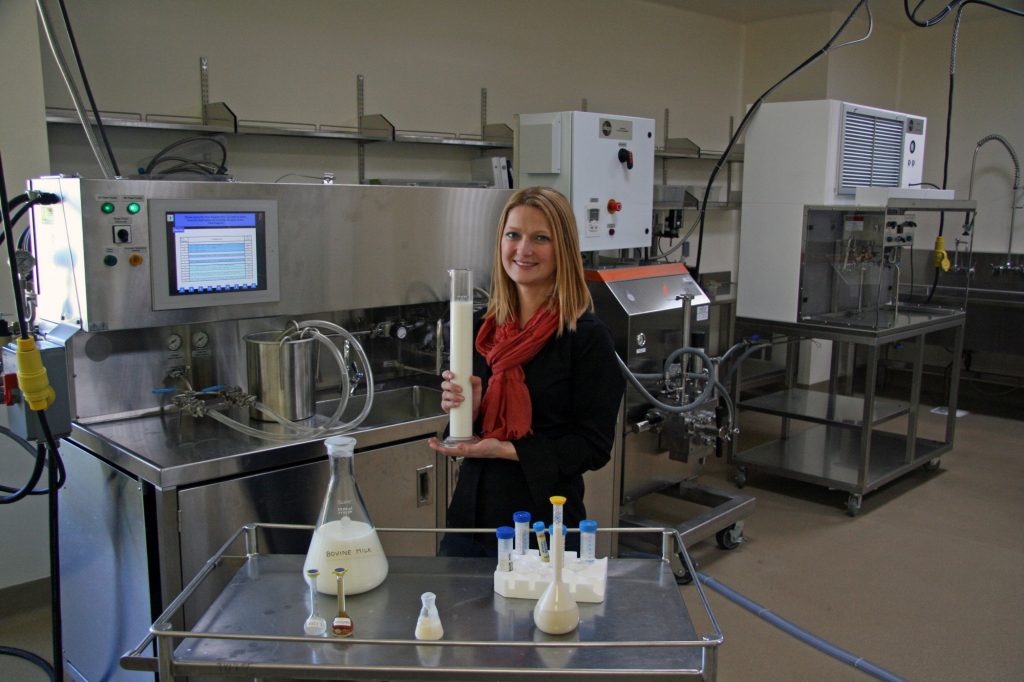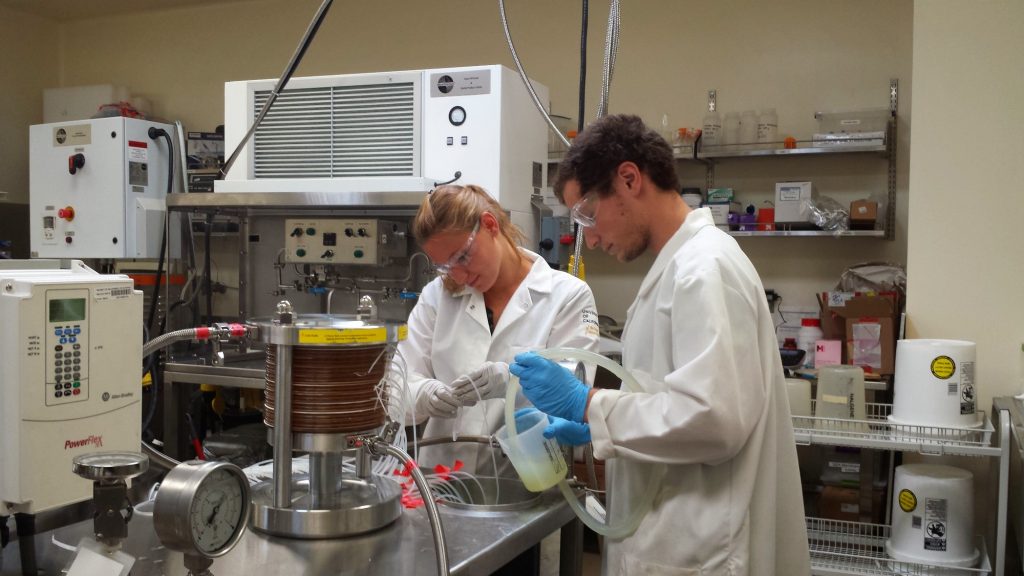 Virtual Video Tour
A virtual tour through the facility can be found here. The Milk Processing Lab is introduced at 5:28 minutes.
Equipment overview
The Milk Processing Lab was designed to be highly flexible by having all of the equipment on wheels. All of our instruments are dairy grade and consume minimal amounts of energy and water. Our equipment reaches steady-state quickly and produces little waste.
All Microthermics equipment at the MPL is certified by Nationally Recognized Testing Laboratory (NRTL). NRTL is an organization that OSHA (Occupational Safety and Health Administration) has recognized as meeting the legal requirements in 29 CFR 1910.7. In brief, these requirements specify the capability, control programs, complete independence, and reporting and complaint handling procedures to test and certify specific types of products for workplace safety. We, therefore, have the necessary capabilities of both a product safety testing laboratory and a product certification body as required to receive OSHA recognition as an NRTL.
Processing systems
Raw milk processing system
Equipment

Raw milk, skim, and cream receiving tanks
Milk pump
Heat exchanger
Cream separator

Separates whole milk into skim and cream fractions
Processes at 100 gallons tank capacity
Recovers heat added to milk for separation
Maintains holding temperature of raw milk, skim milk, and cream at 5°C
Heat processing system
Equipment:

Pasteurization/UHT unit
Homogenizer
Ultra-clean filler unit

Pilot plant scale processing sequence to pasteurize, homogenize, and package milk, skim, and cream
Can perform HTST or UHT pasteurization
CIP cleanable
Compound isolation and purification
Equipment

Cream separator
Membrane filtration system
Desalination unit

Separates bioactive compounds from dairy streams through microfiltration, ultrafiltration, nanofiltration, and reverse osmosis
Equipment
Receiving tanks
2 stainless steel tanks with 100 gallon capacity
1 stainless steel tank with 25 gallon capacity
Provides agitation
Jacketed with chilled water to keep milk at 5°C
Tank jackets can be heated by coupling with our powerful Chromalox heater
Used as receiving tanks for dairy products, in milk processing, and in enzymatic reactions such as casein precipitation and lactose hydrolysis
Manufacturer: Sprinkman Corp.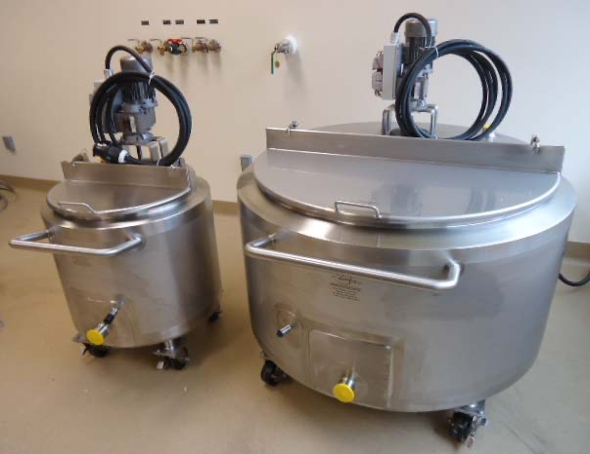 Water Circulating Temperature Heat Transfer System
Heats or cools water to be used with jacketed receiving tanks or heat exchanger
Heats water up to 250 °F
Open or closed-loop cooling
Manufacturer: Chromalox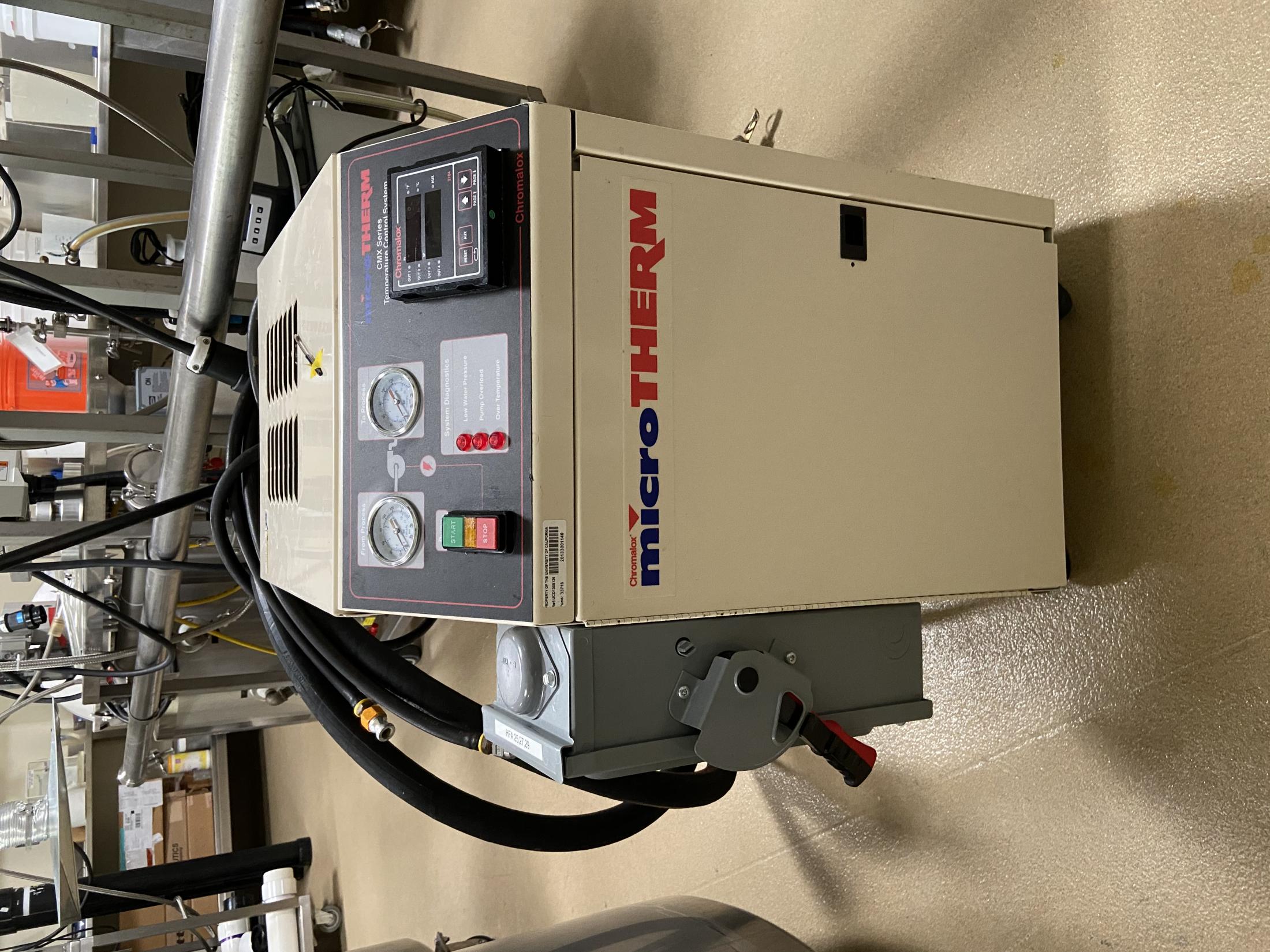 Heat Exchanger
Utilizes a 3-section sanitary design

Section 1: pre-heats cold raw milk with heat released from cooling milk in section 3
Section 2: Heats raw milk with hot water
Section 3: Cools skim milk to be held at 5°C until processing

Ideal for heating milk prior to separating skim from cream
Manufacturer: TetraPak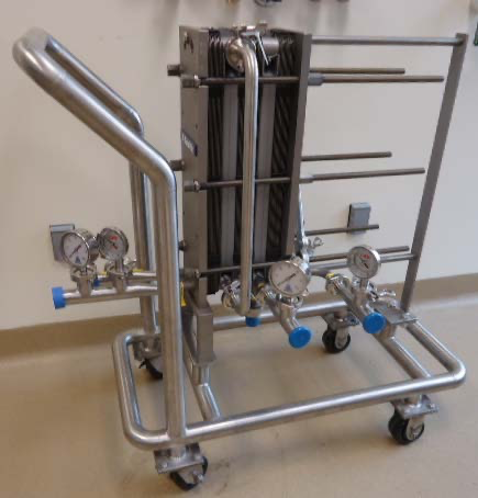 Cream Separator
Separates raw milk into skim and cream fractions

Typically operated at 3.3 L per min

Best performance with milk between 21-57 °C

≤0.1% skim efficiency
10-40% milkfat cream
Manufacturer: GEA Westfalia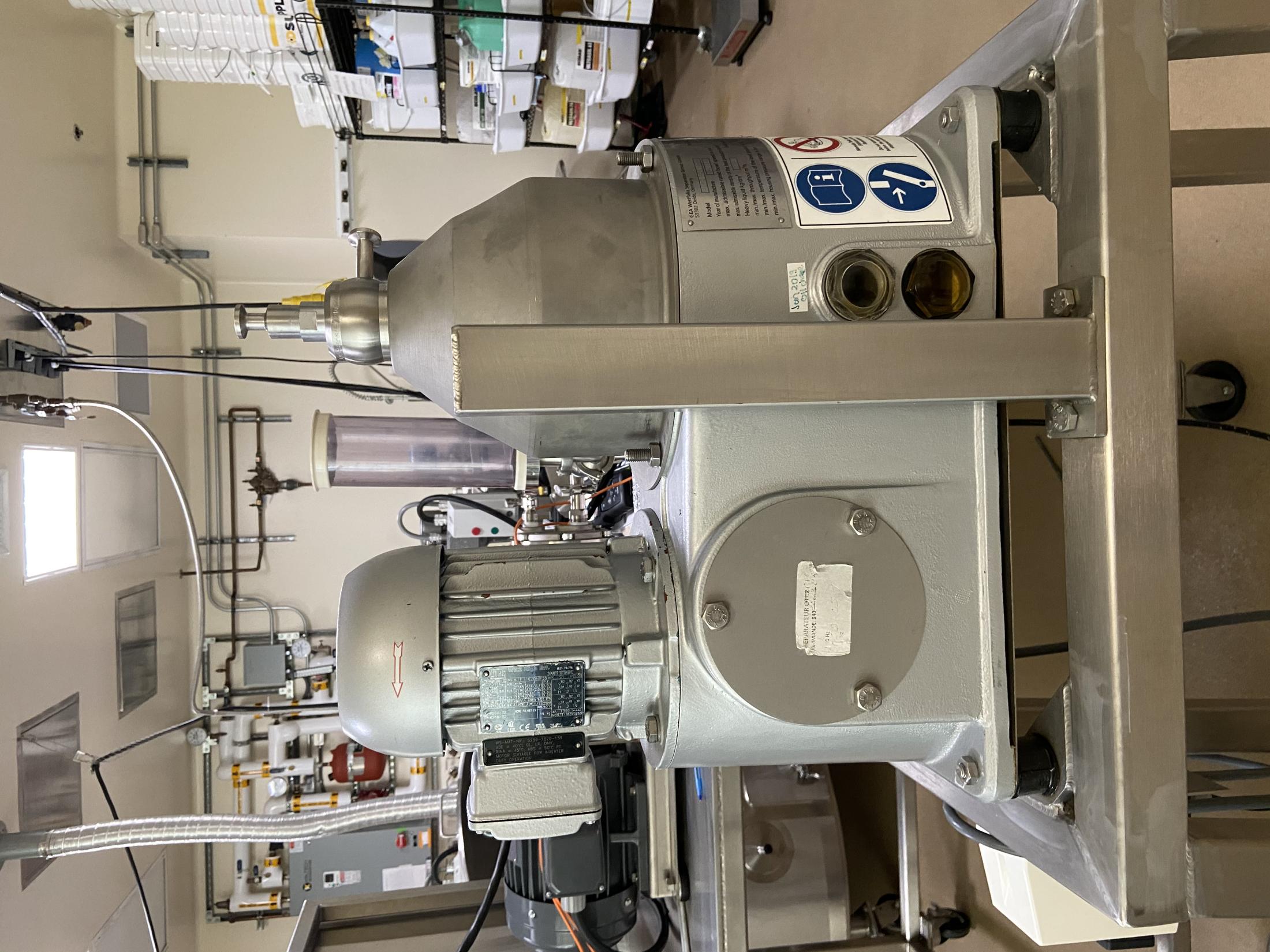 Pasteurizer/UHT unit
Can perform HTST and UHT pasteurization on milk, skim, or cream
Typically operated at 2 L per min
Pilot plant scale
CIP cleanable
Manufacturer: Microthermics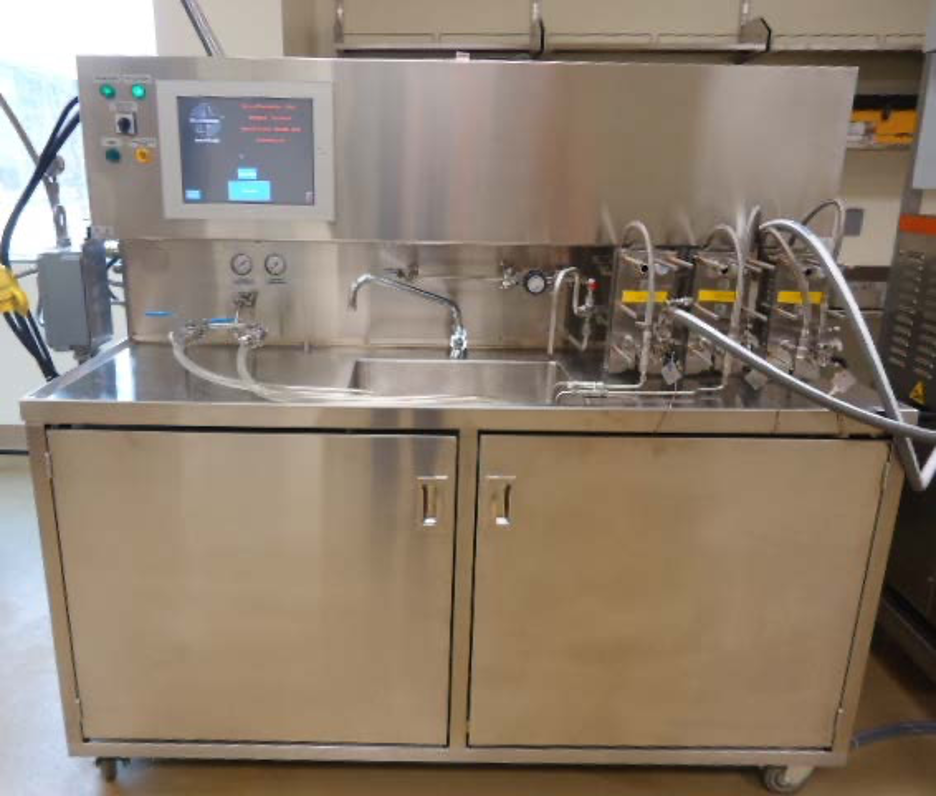 Homogenizer
Utilizes 2 homogenizing stages to maximize homogenization
Variable speed motor to match the flow of the pasteurizer/UHT unit
Sterilizable by pasteurizer/UHT unit
CIP cleanable
Manufacturer: GEA Niro Soavi
Filler with automatic fill control
Packages product appropriately for research studies including

Refrigerated shelf-life studies
Product-package interaction studies
Sensory panels
Clinical trials

Capable of aseptic filling
Ultra-clean filling environment

Filler hood has a shower of HEPA filtered sterile air

CIP cleanable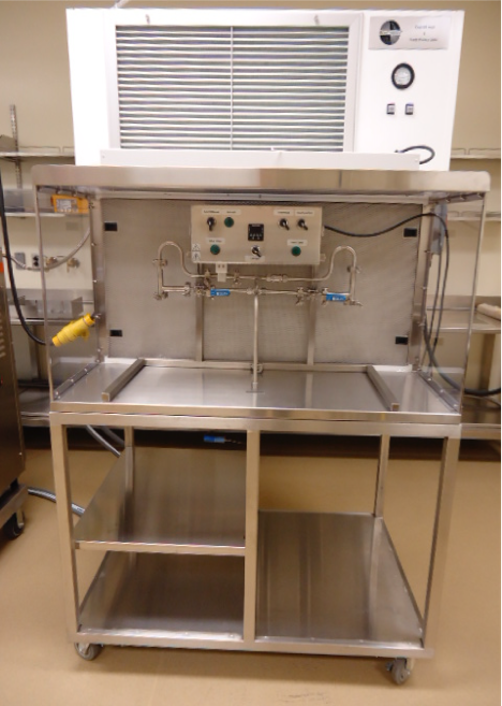 Membrane filtration system
Capable of micro-, ultra-, and nano-filtration and reverse osmosis to isolate milk components
Critical step in separating bioactive compounds from milk
Highly versatile

Module for simultaneously screening several flat-sheet membranes
Module for using up to 3 larger spiral membranes

Available in both pilot plant and bench scales
Manufacturers: GEA Process Engineering (pilot plant scale), Smartflow technologies (bench-scale)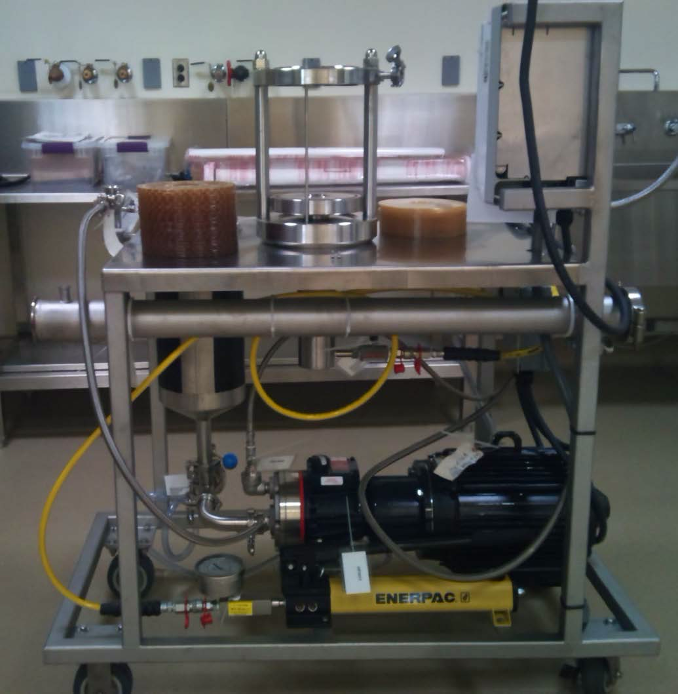 High-Performance Desalination unit
Fully automated
Ion exchange membranes
MiniCell test strand
10 cell pairs
Purifies target compounds following membrane filtration
Manufacturers: Fuji Film, Magna Imperio Systems Corp.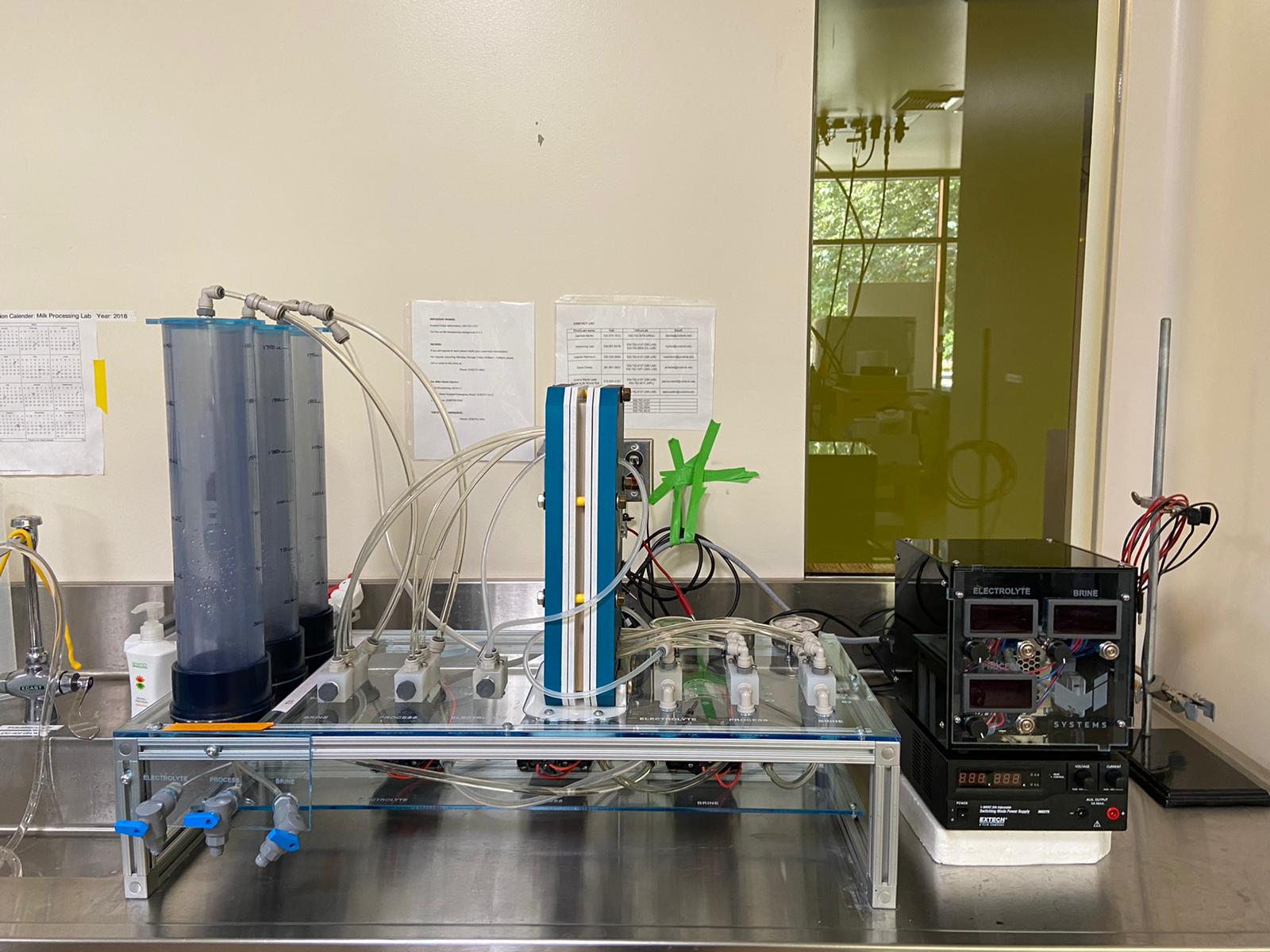 Fermenters
Custom-designed stainless-steel fermenters
Frequently used for lactose and monosaccharide fermentation
Manufacturer: Cypress Semiconductor
How we can help further you research
Each dairy product and co-product has numerous potential uses and valorization strategies. Whey permeate, a co-product from whey protein production, is an excellent example of this. We have extensively studied whey permeate to unlock its hidden value in multiple commercial sectors. We want to help you discover your material's true potential.

Whether you are interested in applying established dairy techniques to your material or want to investigate novel uses of our research and equipment, we are excited to discuss all possibilities! Our relationship with every company is slightly different, however we typically follow the work-flow relationship illustrated below:

We can help you answer a wide range of your research questions using our state-of-the-art Milk Processing Lab and our abundant experience. Below is an example (optimization of thermal processing conditions for dairy, juice, and other fluids) of how we can deliver results and answers to your research questions: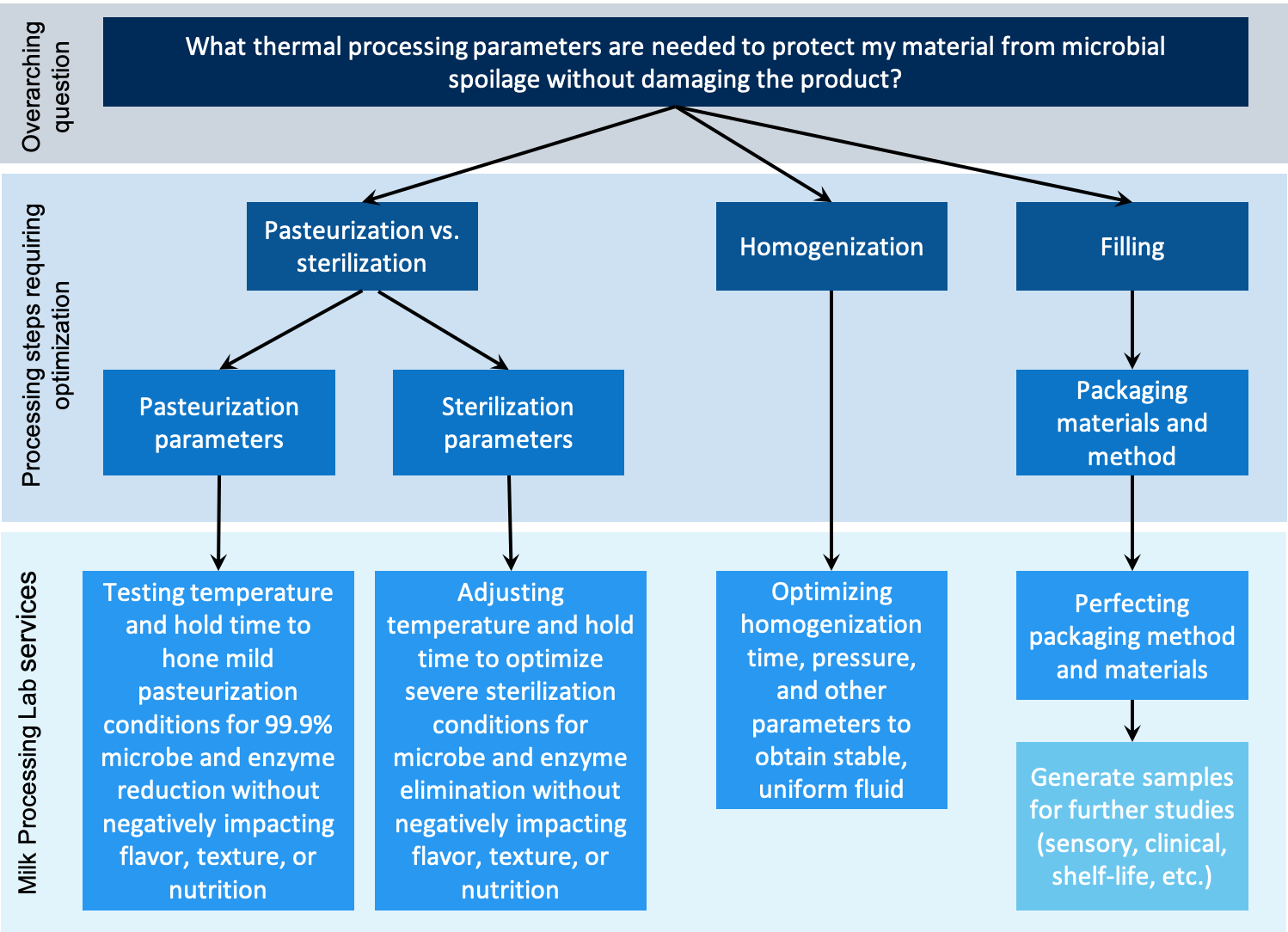 Who we partner with
In addition to facilitating groundbreaking research, the Milk Processing Lab also acts as an avenue for the Barile lab to partner with members of the food industry. We have worked with countless companies to answer their research questions, further product development, and test novel methodologies on our pilot scale equipment. We gladly partner with members of both the dairy and non-dairy sectors to further companies' research needs. Between our Milk Processing Lab and Glycomics and Peptidomics services, we have worked with dozens of companies located throughout North America, Europe, and Asia. Our partners span companies of all sizes, from start-ups to multinational corporations and cover nearly every facet of the food and beverage industry including all types of dairy products, infant formula, cultured breast milk, water treatment and filtration plant-based foods and beverages, coffee, agricultural waste products, and processing co-products.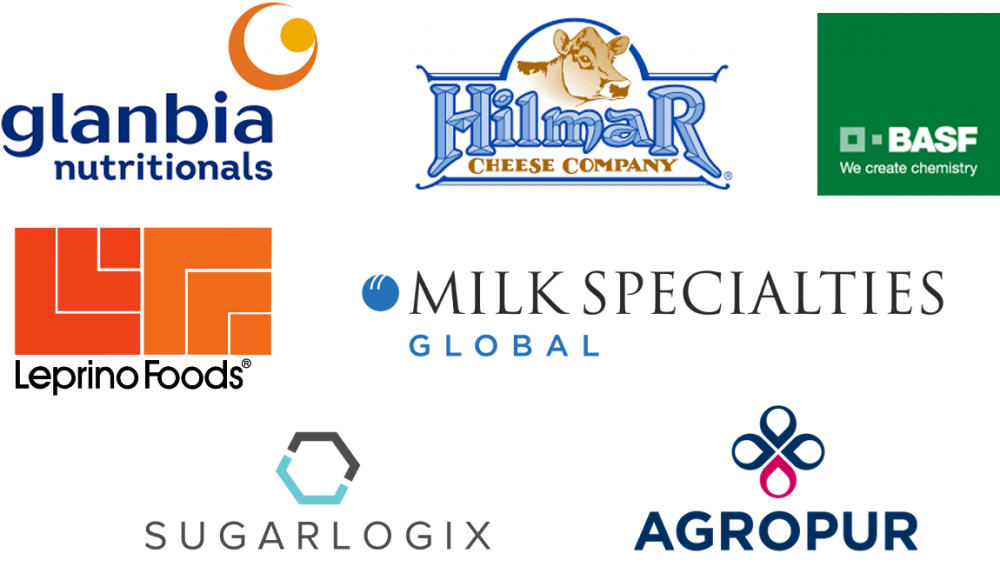 Services and rates
"Professor Barile's lab is a valuable collaboration partner for industrial researchers. They are not only technically of the highest caliber-- but also are responsive, customer-service driven, and very professional to work with. We couldn't be more pleased with the timeliness and quality of communications with this team."  
-Paula Hicks, CTO Sugarlogix
The Barile lab frequently aides companies in isolating and characterizing bioactive milk components, developing and preparing samples for clinical and sensory studies with approved Institutional Review Board protocols, studying packaging, testing stability, and formulating novel ingredients. Additionally, the Barile lab is happy to partner with companies who wish to utilize the Milk Processing Lab's equipment for internal tests and product development. Please inquire if another methodology or area of expertise from our research would be helpful, as we can perform a wide variety of services in addition to those mentioned above.
Our recharge rates vary based on the work being performed.  Please contact Bruna Paviani for more information: bpaviani@ucdavis.edu.
We look forward to working with you!