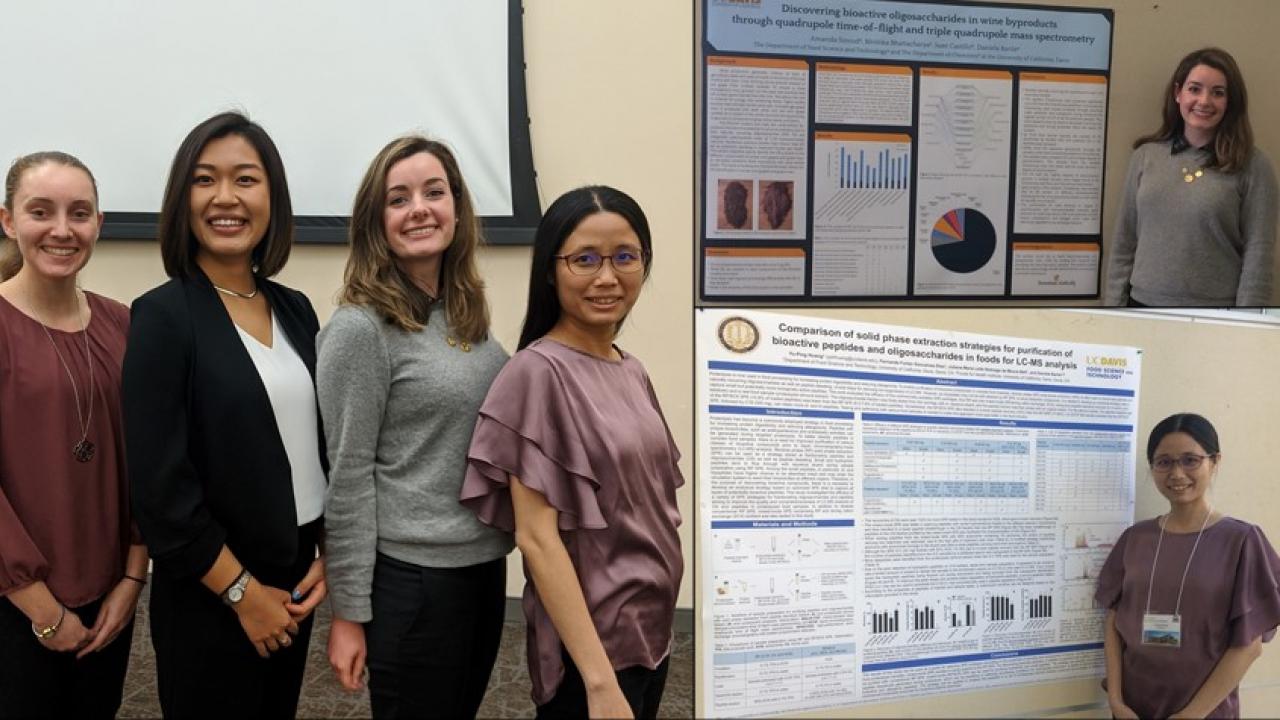 Undergraduates, graduate students, and post-doctoral scholars from the Department of Food Science and Technology at UC Davis gathered at the UC Davis Conference Center on Wednesday, March 11 for the Northern California chapter of the Institute of Food Technologists (NCIFT) Annual Meeting and Student Recognition Banquet. The event featured a research poster session, food industry fair, networking reception, scholarship awards, and a keynote talk by Jaime Rudolf Reeves (R&D Director, Del Monte Foods).
Barile Lab graduate students Yu-Ping Huang and Amanda Sinrod both presented posters. Yu-Ping presented on a comparison of solid phase extraction methods for the purification of bioactive peptides and oligosaccharides, while Amanda's poster centered around uncovering bioactive oligosaccharides in wine byproducts.
In addition, Barile Lab members Yu-Ping Huang, Amanda Sinrod, Sierra Durham, and Zhe Wei were awarded several scholarships. Amanda received the Fresh Express Scholarship and Chao Hsia Endowed Fund Scholarship, Sierra received the Victor Chu Memorial Scholarship, and Zhe received the John C. Bruhn Dairy Food Scholarship and the NCIFT Marie and William Cruess Scholarship. In addition, Amanda, Yu-Ping, and Sierra were all awarded the Erika and Walter Jennings Graduate Student Fellowship, an award for graduate students with a primary research focus on applying analytical chemistry to food.
Story by Sierra Durham
Photos by Sarah Yeager, Sierra Durham